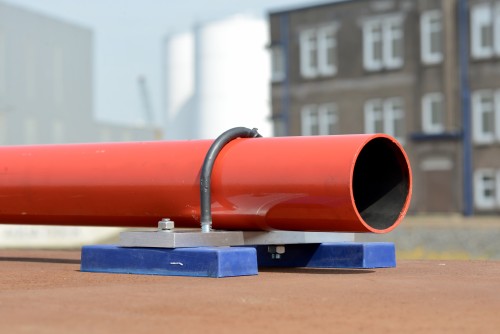 Working efficiently with
permanent magnetic pipe supports
With McNetiq permanent pipe supports, the installing can take place without halting any petroleum and chemical processing or tank storage operations. Being able to operate ATEX-compliant, the standard components will allow you to install lines and pipe systems quickly. An additional benefit is that magnets do not affect the steel structurally, as welding can do.
Due to the magnetic forces, the systems can be used permanently. When intended to be used for a short period, then the McNetiq permanent pipe supports have a clear advantage that they can be removed without the need for repairs of the original structure.
The basis of permanent magnetic permanent pipe support is the Rubber Block Magnet (RBM) – the blue blocks in the permanent pipe support. The RBM is placed with an installation device. After installation, the RBM is tested with a special test device using an adjustable torque wrench.
We typically use rubber-based magnets to avoid damage to coatings and paint systems.
McNetiq supplies magnetic solutions with Controlock® technology since 2013, initially for connecting scaffoldings to steel storage tanks. Users are global contractors that are serving a large range of the most reputable global independent tank storage operators, mayor oil producers, and chemical producers.